FAQ's & PRICES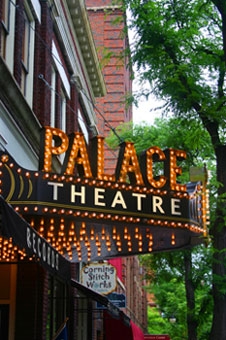 Q. What are your prices?
A. We are simply the BEST movie-going value in the area!
You could spend up to $3.50 MORE PER TICKET to see the SAME MOVIE, but do you want to??
Our Prices:
Adults $9.90Â 
Child ( 12 and under) $7.90Â 
Senior ( 60 and over) $7.90Â 
Matinee ( before 6pm) $7.90Â 
Military ( with ID) $7.50Â 
Student ( Monday only) $7.50

For your convenience, we now accept all major credit cards!
Q. What kind of equipment do you feature at the Palace Theatre?
A. We have just installed brand new 100% digital equipment.
Q. What can you tell me about your theaters?
A. We have two houses (auditoriums) which seat between 75-100 patrons, the back section of each house has stadium-style seating. Our chairs are wider than most and have a slight rocker/recline feature that allows you to get more comfortable. We also have small tables at select seats in the theaters (everyone loves these, and some folks get here early to get their choice!); those aisles also offer much more leg room than a standard theater.
Q. How do I get in touch with someone if I need to ask a question?
A. The best way to contact us is via email at corningpalacetheatre@gmail.com you can also call the movie hotline at 607-654-7393 during our regular hours. Don't be surprised if a real person answers the phone; we like to do that whenever we are able.
Q. What about "special" shows?
A. We do run special shows for larger groups. Generally the cost for this $100 per hour (2 hr minimum) for the facility rental, which does not include admissions or concessions.
Q Where are you located?
A. We are located at 17 West Market Street in beautiful downtown Corning's historic Gaffer District.
Q. When did the theater open?
A. That's a tougher question than you might think. From what we can piece together, originally this site was the home of the Little Princess Theatre in the 1800's. The auditoriums were upstairs just as they are now, but back then people sat on wooden bleachers. The space was later converted to retail in various configurations for a long time until recently when the theater was reestablished; that was in 2006. In 2009 Tim and Doreen Bonomo bought the theater, immediately replaced all of the seating, remodeled the lobby, made other technical/equipment changes and changed the format to a "first run" movie theater. On July 31st, 2009 The Palace Theatre reopened its doors and has been delighting patrons ever since. The era of 35 mm film ended and the Palace Theatre became fully digital on September 14, 2012.
Q. Do you have gift certificates?
A. Yes, our gift certificates are available in $10 increments, and they are good for any show and our concessions.
Q. Do you have an on-screen advertising program?
A. Yes, we do, it is much more than just an on-screen program. Check out the "advertise with us" tab on the webpage for details.
Q. When do your movies change?
A. Usually movies change over on Fridays, occasionally on Wednesdays. But it is difficult to tell since movies are normally contracted for a run of a number of weeks. The BEST way to find out what is playing (or what will be playing) is to sign up for our email. This system sends you the movie titles, dates and show times (usually once a week) in an email. Of course, another way is to become a facebook friend of the Palace Theater. Check us out at CorningPalaceTheatre.